Travel to Vicarage Road
Getting to Vicarage Road from central London is fairly easy. The fastest way is to go Overground from Euston Station to Watford High Street which takes about 40 minutes. By tube it takes about 1 hour and then you get off at the Watford end stop.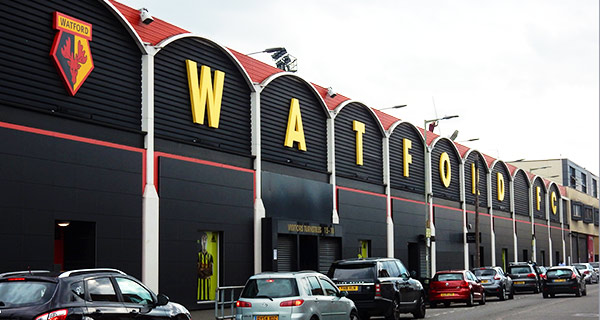 Experience Vicarage Road live
During match days, the streets and pubs around the stadium fill up very quickly. Thousands of supporters create a wonderful atmosphere and if you have a hard time finding the stadiumarena, just follow one of ten thousands Watford supporters. The souvenir shop "The Hornets Shop" is the first thing you meet when you walk from the center, so why not take the opportunity to make a purchase before it's time to pick up your football ticket. When you are going to see a match on Vicarage Road, and buy your match ticket from us at GO Sport Travel, you pick it up directly in one of the ticket booths in a fast and safe way. Depending on which section you choose, pick up your ticket at the Overseas Ticket Collection located behind the short side The Rookery Stand, or the Hospitality Entrance located behind the long side The Graham Taylor Stand.
Once you have picked up your match ticket, it is time to enter the match. Through our official agreements with Watford FC, we always offer places on the long side. If you have chosen to book the Hospitality tickets called Directors Guest Lounge or Horizons Hospitality, you will be warmly welcomed by the staff at the Hospitality entrance on arrival. You have access to one of the lounges where matches and drinks are served. An excellent place to read the match program and enjoy a pint while the atmosphere inside the arena is getting better.
When it draws to the start of the match, it's time to get out to your seats in the stands and in all probability you will be sitting among native Watford supporters. Take part in the cordial hospitality at the same time as the heel on one short side starts singing. During breaks and after matches, you still have access to the lounge, which means that you can unwind in peace and quiet and wait for the worst crowds together with a beer or something edible.
If you are looking for a unique football experience, we highly recommend a visit to Vicarage Road! A perfect place to experience your football trip at, whether it is for the whole family or a group of friends.