Travel to Etihad Stadium and Manchester City FC
Just outside Manchester's city center you will find the Etihad Stadium and getting here is both quick and easy. By bus or tram, travel time is approximately 10 minutes from Piccadilly Station.
During match days, the vast majority of local supporters recharge at one of the pubs inside Manchester as there are not that many around the arena. As a football traveler, it will then be very easy to enjoy the atmosphere in the morning during match days as most of the hotels are also in the middle of Manchester.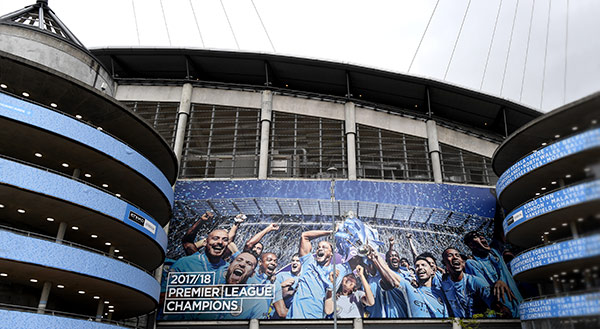 Experience Etihad Stadium live
When you are going to watch a home match with Manchester City, we can with our official agreements offer you football tickets in a safe and secure way. GO Sport Travel's match tickets in the 93:20 suite give you both a comfortable, upholstered seat with a good view of the football pitch and access to sports bars. Before the match, you can easily pick up your match ticket at North Stand Ticket Sales, which is located behind the north stand. Here, there are rarely any longer queues, which provides a smooth and fast pick-up. Near the ticket office you will also find the City Store for those who want to buy Manchester City souvenirs. After this, you enter the arena and head into the 93:20 lounge, which is a special sports bar for you with a 93:20 ticket. The size of the sports bar means that you do not have to be crowded with other visitors so that you can enjoy a pint and eat something easier while reading the match program that is included. Depending on the kick-off time, you can watch other matches on any of the TV screens located around the lounge. The atmosphere is almost always good in here where local supporters mix with football travelers from all over the world.
As the match approaches, the seats are just outside the lounge. The comfortable chairs provide a comfortable experience while you can enjoy top-class football together with a committed home crowd. At half time and after the match, you still have access to the 93:20 suite if you want to take the opportunity to have something to drink. Especially after the match, it can be nice to stay to avoid the worst queues.